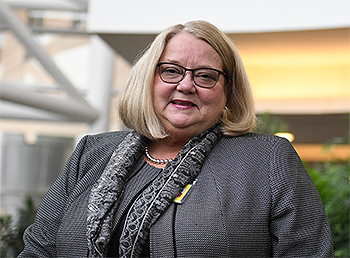 Media Contact: Janet D'Alesandro
janetd@ajj.com; 856-256-2422
PITMAN, NJ – Nancy May, DNP, RN-BC, NEA-BC, member and past president of the American Academy of Ambulatory Care Nursing (AAACN), has been chosen by the American Academy of Nursing (Academy) for the 2021 Class of Fellows, one of the most prestigious honors in nursing.
Dr. May, of South Lyon, MI, will be among the 225 highly distinguished nurse leaders who will be recognized for their outstanding contributions to health care at an induction ceremony during the Academy's annual policy conference October 7-9, 2021, taking place in Washington, DC, and virtually.
"Dr. May is a constant advocate and cheerleader for ambulatory care nursing," said AAACN President Kathleen Martinez, MSN, RN, CP. "As one of the first CNOs of ambulatory care practice, she recognized the strategic advantage that comes with a seat in the C-suite. She has used her influence to enhance the role of the RN in ambulatory care and to incorporate key AAACN initiatives such as Care Coordination and Transition Management in large health care systems."
Martinez also praised Dr. May for her tireless work mentoring future nurse leaders and the important role she played in leading the AAACN Nurse Executive Toolkit Task Force.
The 2021 class of Fellows represents 38 states, the District of Columbia, as well as 17 countries. Each of the Fellows is being recognized for extraordinary commitment to promoting health and wellness locally and globally.
Once inducted, the Fellows will be among more than 2,900 nurse leaders in policy, research, administration, practice and academia.
Fellows are selected through a rigorous and competitive process, with the recipients chosen by an elected committee of Academy fellows.
"I am thrilled to welcome another exceptional class of Fellows to the American Academy of Nursing during a momentous time of change and progress in our collective efforts to fulfill the organization's vision of healthy lives for all people," said Academy President Eileen Sullivan-Marx, PhD, RN, FAAN. "The Academy's Fellows embody our values of equity, diversity and inclusivity, inquiry, integrity, and courage, which enable us to achieve new heights of impact that advance health policy across the globe. Congratulations to this dynamic cohort of leaders who bring diverse experience and expertise to the Fellowship."
About Dr. May
Nancy May has been a AAACN member for 16 years, holding the position of president in 2015-2016. In that role, she drove the agenda for development of Nurse Sensitive Indicators (NSIs) specific to ambulatory care nursing, leading AAACN to partner with the Collaborative Alliance for Nursing Outcomes (CALNOC) to pilot indicators at over 150 sites. An NSI Industry Report was published and now the NSIs are used by Magnet organizations across the globe.
Prior to her position as AAACN president, Dr. May served the association in various leadership roles, advocating for the RN and amplifying the impact nurses have on quality and safety. She also helped develop AAACN's tools and resources for Care Coordination and Transition Management (CCTM) and worked on the board to help support a transition-to-practice compendium for the RN into ambulatory care.
Dr. May is currently Chief Nurse Executive (CNE) at the University of Michigan Health System in Ann Arbor, MI. As CNE, she is responsible for regulatory standards and nursing practice across the health system. She has also held leadership positions at Cleveland Clinic and served as a Chief Nursing Officer at Baylor Scott and White in the Texas Health System.
She has served on many boards including an appointment on the American Organization of Nurse Leaders (AONL) representing ambulatory care nursing since 2019. She has also participated on task forces with the Institute of Health Improvement, Joint Commission Nursing Advisory Board, Press Ganey Chief Nursing Officers Council, and the American Medical Group Association CNO Council.
Her current positions include chair for the AONL Taskforce on Value-Based Payment models across the care continuum. Dr. May is also a Magnet Commissioner for the American Nurse Credentialing Center representing ambulatory care.
Read Full 2021 Class of Fellows Announcement