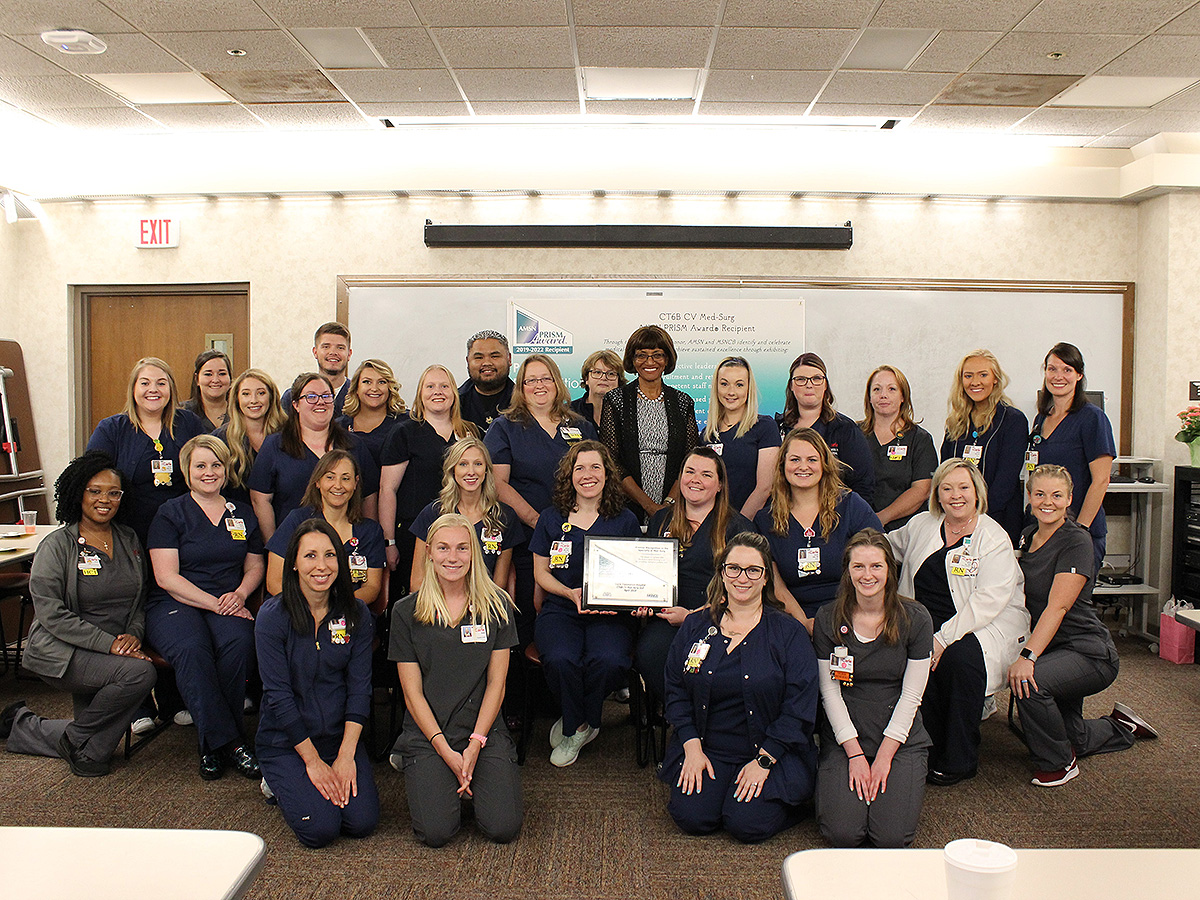 The Carle Tower 6B medical-surgical unit at Carle Foundation Hospital, Urbana, IL, has been awarded the prestigious AMSN PRISM Award®, which recognizes exceptional nursing practice, leadership, and outcomes in hospital medical-surgical units.
The nurses of 6B received their award, which is sponsored by the Academy of Medical-Surgical Nurses (AMSN) and the Medical-Surgical Nursing Certification Board (MSNCB), on June 12, 2019. MSNCB President Ann Falker, DNP, RN, CBN, CMSRN, GCNS-BC, presented the award plaque during a special ceremony at the facility. Carle Tower 6B is the third unit in the state to receive the award.
Crystal Griest, a nurse who works on 6B and led the AMSN PRISM Award application process, said the process of applying was a team effort that took more than 1 year to achieve.
"I had been searching for awards for med-surg units/staff on my own time and happened upon the AMSN PRISM Award but let it sit for few months," said Griest. "When I started the Emerging Leaders classes here at Carle, I knew there would be a project and that it should be something that could affect all stakeholders. I wanted to do something that would benefit everyone on the team, boost employee morale, and hopefully encourage other units to do the same. I knew that this was something our unit could achieve but I could not do this alone."
Griest's team provided a wide variety of perspectives and experiences to the application process. Their hard work gathering information and data paid off, and Griest said she and the team are proud of their well-deserved accomplishment.
The CT 6B unit will retain their AMSN PRISM Award designation until 2022.
"This designation validates the hard work and dedication of every member of the team who cares for patients on CT 6B. It connects our work to the excellent outcomes we strive for. It really does highlight that Carle is providing world class care," said Cardiovascular Surgical Services Nurse Manager Johnalene Radek, MSN.
The team that worked on the AMSN PRISM Award application included Jessica Alford, Alyssa Morris, Patty Smith, Angie Speirs, Kara Williams, Nathalee Norman, and Johnalene Radek.
According to Griest, Carle has many units that provide exemplary patient care.
"There are plenty of other med-surg units that work hard at providing high-quality care to our patients and do this on a daily basis," Griest said. "I think patients should know that all of the units at Carle are worthy of an AMSN PRISM Award. Every person here is a member of a team that wants to deliver top quality care every day."
About the AMSN PRISM Award
Hoping to inspire nurses to strive for the highest levels of patient safety and quality, AMSN and MSNCB launched the AMSN PRISM Award in October 2012. In addition to excellence in practice and outcomes, the award also reflects the compassion, commitment, and connection that characterize med-surg nurses.
Specifically, the award celebrates units that exhibit:
    Effective leadership
    Recruitment and retention of competent staff members
    Evidence-based practice
    Positive patient outcomes
    A healthy practice environment
    Lifelong learning of unit staff members
There are more than 650,000 medical-surgical nurses practicing in the United States today, making them the single largest group of specialty nurses working in hospital settings. Med-surg nurses oversee a broad spectrum of patient care responsibilities, another reason the acronym "PRISM" was chosen for the award.